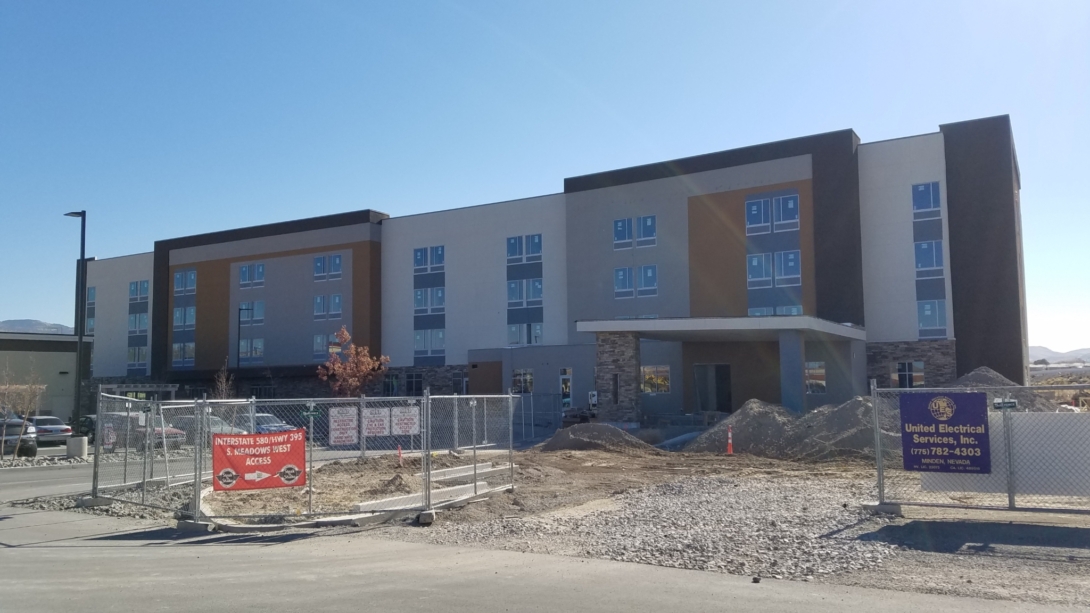 Metcalf Builders is a General Contractor specializing in commercial construction and construction management, in both the public and private sectors. Here are some of our current construction projects in Nevada, Northern and Southern California, Colorado, Utah, and Hawaii.

COMMERCIAL PROJECTS
Freight house: Rehabilitation of the 5,880sf historic Freight House building.   The building has been setting vacant for many years, there where some roof leaks that have caused structural damage to both the roof and the second story floor.   Our scope of work is to:  remove and protect antique millwork,  repair all of the structural issues, new roof, new plumbing, HVAC and electrical.   We will be keeping as many of the historic elements as possible including the windows and doors.
Tahoe Beach Club: A new four-season community on the south shore of America's most iconic lake—a place that's modern and appealing to today's active families yet respectful of the timeless style, natural beauty and enduring legacy of Lake Tahoe. Ranging from two to five bedrooms, Tahoe Beach Club's 143 residences meld modern livability with the timelessness of Tahoe. Inspired by the unpretentious warmth of the classic lake house, each residence exudes the unmistakable sense that one of the world's great alpine lakes is just a few footsteps away.
While millions may aspire to own a Lake Tahoe property with private beach access, an incredibly fortunate few will ever enjoy the privilege. Tahoe Beach Club members and their guests enjoy access to a private beach lined with cabañas and fire pits, where water-lovers of all ages spend their summer days soaking up the sun with their feet in the soft sand or splashing about in the warm water. From our 160-foot private floating pier, you can sink a line to catch trout, salmon or bass, launch your next adventure aboard paddleboard or kayak, or just sit and gaze dreamily across the water at the towering mountains beyond.
Petaluma Marina Apartments: a five stories of wood framed apartment building. Features 178, 65 foot long pile foundation and boasting 90 apartment units.
Lake Tahoe Schools: A private Kindergarten through Grade 8 School located in Incline Village at 995 Tahoe Boulevard. We are constructing civil improvements including roads and bridges to accommodate surrounding developments and to upgrade sewer, water, gas and BMPs in the immediate area. The addition of a 13,000 Square foot gymnasium and performing arts center is on schedule to be completed in the fall of 2019 and will be a welcome addition to the school and community of Incline Village.
HOSPITALITY PROJECTS
Hyatt House: The Hyatt House portion will contain five levels and 165 hotel rooms. The design is slightly different, with four stories of wood built on one story of concrete. The Hyatt House structure will feature residential-style guest rooms with spacious living areas and full kitchens.
Hyatt Place: The Hyatt Place portion will be seven stories, made predominantly of concrete and glass. The building will feature  190 rooms, all larger than typical hotel rooms, with separate living and sleeping areas.
SpringHill Suites Reno: 80k sq ft4 story wood framed hotel with 117 rooms and indoor pool. Located in South Reno off South Meadows Pkwy.
Coburn Crossing SpringHill Suites Truckee, CA: This 68K SqFt Three story Modular hotel project is located in the heart of the Sierra Nevada Mountains. This 114 room hotel is unique in its construction as the foundation of the building and the structure of the main lobby and common areas are being constructed on site, the rooms and corridors are being constructed using a modular method off site and shipped to site where they will be installed via crane and connected to the onsite structure.